DETAILS
D25mm F100mm D28mm F100mm D28mm F150mm Fiber Laser Collimating Lenses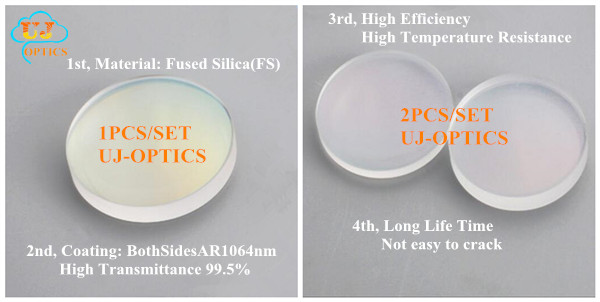 Fiber Laser Collimating Lenses Parameters
Diameter Focal Length
D25mm F100mm; D28mm F100mm; D28mm F150mm
2pcs/set (1st Convex-Convex, 2nd Concave-convex)
Material
Fused Silica(FS) JGS1 Quartz
Shape
Spherical circle
Wavelength
1064nm
Transmittance
99.5%
Advantage
Complete specifications, Spot sale
Double-sided AR coating process, High transmittance
High quality crystal, High Temperature Resistance
Long life time, Not easy to crack, Not easily stained with ash
Low Loss Anti-reflectanc, High Efficiency
Applicable to all major brands of fiber laser machine

We support the customization as your sample, at present, we have done the collimating lens for precitec laser, trumpf laser, lasermech and so on. It is widely used in Laser cutting and welding machines.
We are professional in this field and have rich experience. We win the trust by the quality and service.